I have been getting a lot of skin compliments as of late. I credit it mostly to the summer, and the fact that the sun can have a beautiful effect on skin with healthy exposure, but since there has been such inquiry of my "secrets", I figured I'd indulge. Truthfully there are no real secrets at all. I prefer a low maintenance regimen, as I have some lazy tendencies when it comes to typically fussy matters. So here we go, AdoreDAILY's very first beauty post. Prayerfully it will be of some help :)
I happen to be a firm believer in good skin > make-up. Biotin has proven to be a wonder vitamin for me time and time again. I cannot say that I am always consistent with taking them (I'm just bad with pill schedules) but if my skin or hair is ever on the brink of distress, popping a few of these warrants noticable results in a matter of days (seriously, I once noticed a change in about 2 days). This water-soluble B vitamin is definitely a great investment for your aresnal and  can be purchased at any drug  or vitamin store, even Wal-mart. I tend to grab mine during grocery shopping at organic food markets such as Whole Foods and Trader Joe's. I usually go for a super potency like 5000 mcg's.
Note: Water-soluble vitamins are not naturally stored in the body so its helpful to comsume suppliments on a daily basis. Biotin also assists with protien and fat metabolism for energy use.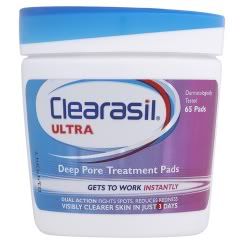 If ever u should get a blemish, Clearasil Ultra Deep Pore Treatment Pads will nip that in the bud instantly. As I'm sure you have been told since puberty, picking blemishes is not only disgusting but counter productive. After cleansing with your favorite facial wash, rub on the Clearasil formula and let dry prior to moisturizing (2-3 times a day for the most rapid results). In about 2 days (depending on skin type) you'll look and feel a ton better.
And if you happen to be a victim of scars from previous breakouts, a bit of patience and consistency with Ambi Fade Cream will heal you right up.
I simply cannot get enough of Origins Modern Friction (for both face and body). Not only does is smell absolutely divine (the fragrance lasts long after a shower), but it also leaves skin sumptuous and silky smooth. Using the exfoliator 2-3 times a week does your skin cells a world of good, and has an amazing brightening and freshening effect. Though its tempting to get carried away and use everyday, DON'T. Too much exfoliating can damage your skin, and that's what we are trying to work against, correct? I know. I usually am. Lol.
My favorite moisturizer by far is Aveeno Positively Radiant. It's super effective and super cheap. You can find it at any drug store, and it's results are comparable to more expensive brands. I love it most because it's awesome for on-the-go situations (such as a quick pick me up after being on a plane for hours). It has those little light reflecting specs that make you glow, without that cheap "glittery" look. I typically just apply this, skip make-up and go. It leaves skin beautifully sheeny without being shiny. Even during fall and winter, skin appears sun-kissed!
Note: There is also an Aveeno Positively Radiant serum that is great for days make-up is applied. It creates a barrier that protects the moisturizer underneath, while providing a satiny canvas as primer for smooth make-up application.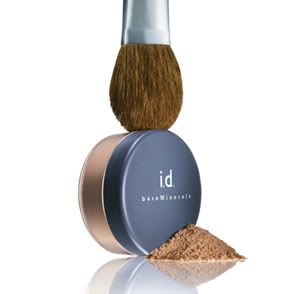 When Make-up is necessary, I must say that Bare Minerals has been good to me. My problem with foundation (and make-up in general) is that nasty, un-breathable feeling that leaves me far too uncomfortable, un-natural, and self-concious.

At the risk of sounding like an infomercial cast member, I must confess that Bare Minerals really is as good as they say. It is such a light formula and fool proof to apply. It's as natural as make-up can get!
A cheaper alternative to the Bare Minerals (BM) System is Cover Girl's Tru Blend MicroMinerals. Granted, its not as pure as BM's formula, but it's the best of the drugstore bunch. I use it for those in between moments when I run out of BM. It has a more accurate tonal quality and a more natural texture than the other low-end brands I have tried.

But please keep in mind, you get what you pay for. I'm slightly OCD so I tend not to keep this on for too long because I eventually get that "self-concious make-up" feeling and want to run to the nearest water source to wash my face. It should get the job done for an average work day however.
And lastly, for what I consider more "heavy duty" make-up scenarios (situations or events where you know tons of pics will be taken from a million angles etc..) I'd definitely go for Mineralize by MAC Cosmetics. It's the only liquid i have ever used that is comfortable with such great coverage and keeps skin looking like skin. The only fault I can find with it is that on certain skin types, it has a tendancy to get a tad shiny. I'm sure MAC Cosmetics recognized this because their Mineralize Skinfinish Natural Pressed Powder is the perfect remedy to the matter.
Note: For a more illuminating effect, try dabbing their HIgh-Light powder under eyes and above cheekbones. It's the only illuminator I have found to do it's job without that annoying glittery appearance.
I really hope this was useful, and would love to hear your feedback about what you may have tried from this post. Also, feel free to send in tips, tricks, and secrets you wouldn't mind sharing from your beauty regimen :)
I get tons of questions about my curls as well, so a hair entry may be on its way!
Over and Out.
love.always.ADORE***
Related posts:
Browse Timeline